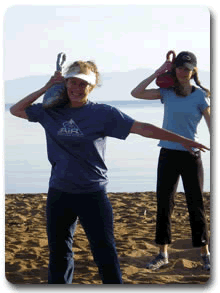 "It's really neat being able to diversify your workouts. Also, training with the group is a big, big part of what you're doing. If you didn't have the group, it wouldn't be the same."
--Kelly H.

"

Thanks Moxy Trainers and all the beautiful and inspiring women that I have the fortune to spend dawn with almost daily. The places we've been, the conversations I've had, the sunrises I"ve seen....I can't thank you all enough. I am new and improved!

"
-- Alix G.


---
"In 2007 I was visiting Tahoe for the Kokanee Salmon Run and couldn't help but notice the Moxy Girls. The spirit and enthusiasm that the group showed for every single Moxy Girl crossing the finish line was amazing. It was exactly what I had been looking for.

It took a year and half before I moved up here and the very next day I started Moxy. Since then I haven't missed a single day of training (unless I was out of town) and have never been stronger, fitter, or leaner. Moxy Fitness has given me back my health, my body and rejuvenated my active lifestyle--as my husband puts it, "Moxy has given me back my wife".

In addition to my improved fitness, the friendships that I have made through Moxy are more than I ever expected. I cherish the fact that every morning I get to "get up with sun and out with the girls".

Thanks, girls – you rock!!
"
-- Natalie
C,
---
"After 8 months with Moxy and finally getting to my goal weight and fitness, I moved from Tahoe to New Zealand. Can't find anything here that comes near to replacing it and it's one of the things I miss most in my new life!"
-- Tania
P
Wanaka, New Zealand
---