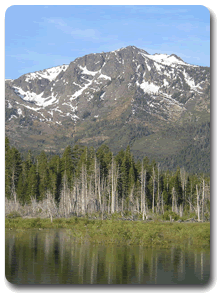 Unbelievable Mountain Views
See What's Inside....OUTSIDE! Enjoy majestic mountain views while exercising outdoors.
"It's really neat being able to diversify your workouts. Also, training with the group is a big, big part of what you're doing. If you didn't have the group, it wouldn't be the same."
--Kelly H.

Show All » Daily Blog » March 2011 »
March 5, 2011
- March 6, 2011
Oatmeal While You Sleep
Amber Wilson, MS, RD
www.new-life-nutrition.com
Cold weather and snow storms call for a hearty and satisfying breakfast. What could be better than waking up to a steamy pot of tasty oatmeal to power you through the day? This recipe uses steel cut oats and a slow cooker; assemble the ingredients before bed and breakfast will be waiting for you in the morning.
Ingredients
1 cup steel cut

oats

1 cup dried cherries

1 cup chopped apple

4 cups water

½

cup non-fat or low-fat milk

¼ - ½ cup chopped nuts (walnuts, almonds or pecans make a great addition)
Directions

Combine all the ingredients, except the nuts, in a slow cooker and set to low heat. Cover the slow cooker and let cook for 8-9 hours overnight.

In the morning, stir the oatmeal and add the nuts. Serve and enjoy!


« Go Back
---