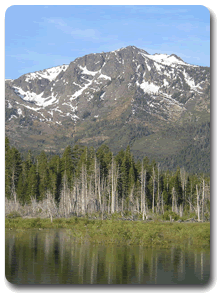 Unbelievable Mountain Views
See What's Inside....OUTSIDE! Enjoy majestic mountain views while exercising outdoors.
"It's really neat being able to diversify your workouts. Also, training with the group is a big, big part of what you're doing. If you didn't have the group, it wouldn't be the same."
--Kelly H.

Show All » Daily Blog » November 2010 »
November 20, 2010
- November 20, 2010
What Does your Fruit and Vegetable Report Card Look Like?
We all know that eating fruits and veggies is important to help prevent cancer and heart disease, but most adults are not eating enough. According to a new report released by The National Fruit and Vegetable Alliance, if American adults were assigned a letter grade for their fruit and veggie consumption, they would be assigned the letter grade "F".
Five servings per day of fruits and veggies might sound like a lot, but a serving size isn't that big: a medium piece of fruit, ½ cup cooked vegetables or 1 cup leafy greens. It's easy to sneak in a couple extra servings of fruits and veggies. Check out the tips below to see how you can pack fruits and veggies into every meal of the day:
Keep frozen berries on hand to add to your favorite breakfast.

Stir into cereal, oatmeal, yogurt or granola.

Slice up an apple with some low fat cheese for a mid-morning snack.

Pile on the veggies at lunch.

Pack your sandwich with thinly sliced veggies, such as cucumber and bell pepper.

Or load up your salad with broccoli, shredded carrots and tomato.
Power through a drowsy afternoon with sliced veggies dipped in hummus.

Sautee seasonal veggies at dinner and stir into whole wheat pasta, quinoa or rice for a delicious and healthy pilaf.

« Go Back
---